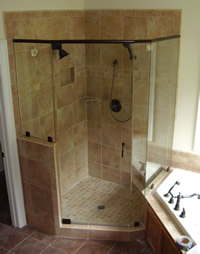 Furniture City Glass is the leading provider of custom glass and mirror solutions in the Piedmont Triad area of North Carolina. Let us fulfill you glass and mirror needs around the house. We furnish and install bathroom mirrors and glass tub/shower doors and glass enclosures. Whether you need a custom glass shower door for a new or old shower, or plate glass to fit a table top or window, our experienced glazing specialists and sales staff are here to assist you in every way possible.
At Furniture City Glass we provide:
Glass Shower/Tub Doors and Shower Enclosures
Mirrors (cut to size and/or cut to accommodate lighting)
Screens and Storm Windows
Glass Table Tops (cut to pattern or specific size)
Window Replacements
Window Tinting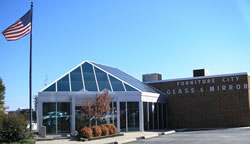 See examples of some of our products on this web site. We have examples of Framed Tub/Shower enclosures, Frameless Shower Enclosures, and Custom Mirrors. We provide customized enclosures, so we can fit any layout and size that your bathroom may have. Whatever your glass or mirror needs may be, we can help.
Visit our showroom in High Point, North Carolina and see many of the options available to you. Or, you can make an appointment for one of our trained sales representatives to come to your home to personally assess your needs. We can supply practically all of your glass or mirror needs - contact us and let us help you with the right solution to you situation.
We also offer a product known as Showerguard™. Showerguard™ is a product that is applied to the glass when it is tempered that prevents it from getting those annoying little water spots. It has a ten year warranty against any water spots. Go to ShowerGuardGlass.com for more information on this revolutionary product.